September 5th
WELCOME Rev. Anna Kreisle
ANNOUNCEMENTS
*PASSING THE PEACE
*CALL TO WORSHIP FOR LABOR DAY Liturgist
One: This Labor Sunday, we stand up to pray for those who are hungry.
All: We bow our heads to pray for those who will not feed them.
One: We stand up to pray for those who struggle each week to pay their bills.
All: We bow our heads to pray for the wealthy who do not care.
One: We stand up to pray for those who are homeless.
All: We bow our heads to pray for those who deny them shelter.
One: We stand up to pray for the sick and lonely.
All: We bow our heads to pray for those who will not give them comfort.
One: We stand up to pray for those who cry out for dignity.
All: We bow our heads to pray for those who will not listen.
One: We stand up to pray for those oppressed by unjust wages.
All: We bow our heads to pray for those who exploit them.
One: We stand up to pray for those who bear the yoke of prejudice.
All: We bow our heads to pray for those who discriminate against them.
One: We stand up to pray for those whose basic needs are denied.
All: We bow our heads to pray for public officials who cater to the greedy and ignore those bound unjustly. Amen.
Adapted from a prayer by Rebecca Sutton, Program Coordinator of Global Women's Exchange from the NY State Labor-Religion Coalition's seventh annual 40-hour fast & "Prayers for a Just Economy," a prayer service calling for an increase in the federal minimum wage held in Washington, DC, July 24, 2013.
OPENING SONG "When Israel Was in Egypt's Land"
CALL TO CONFESSION Liturgist
PRAYER OF CONFESSION
All: We are workers, God, just like you. But we confess that our actions do not always affirm and honor each other. Our work is not always done in a spirit that is pleasing to you. We confess that, on some occasions, we have blindly bought goods made by people who are paid too little or work in unsafe conditions. We admit that we have failed to end an unjust system in which some workers have jobs that provide good wages and benefits while others may have no job, or one that pays little and provides few benefits.
Creator God, help us to be your people, working for a world where all workers are valued. A world where those who clean houses are also able to buy houses to live in. A world where those who grow food can also afford to eat their fill. And one where those who serve and care for others — in stores, schools, hotels, restaurants, nursing homes, and many other places — are, themselves, also served and cared for. It will be a world where all workers everywhere share in the abundance that you have given us.
ASSURANCE OF PARDON
CHILDREN'S SONG Jesus Loves Me

CHILDREN'S SERMON
CHILDREN'S SENDING SONG Shalom Chavarim
SCRIPTURE READING Mark 7:24-37
From there he set out and went away to the region of Tyre. He entered a house and did not want anyone to know he was there. Yet he could not escape notice, but a woman whose little daughter had an unclean spirit immediately heard about him, and she came and bowed down at his feet. Now the woman was a Gentile, of Syrophoenician origin. She begged him to cast the demon out of her daughter. He said to her, 'Let the children be fed first, for it is not fair to take the children's food and throw it to the dogs.' But she answered him, 'Sir, even the dogs under the table eat the children's crumbs.' Then he said to her, 'For saying that, you may go—the demon has left your daughter.' So she went home, found the child lying on the bed, and the demon gone.
Then he returned from the region of Tyre, and went by way of Sidon towards the Sea of Galilee, in the region of the Decapolis. They brought to him a deaf man who had an impediment in his speech; and they begged him to lay his hand on him. He took him aside in private, away from the crowd, and put his fingers into his ears, and he spat and touched his tongue. Then looking up to heaven, he sighed and said to him, 'Ephphatha', that is, 'Be opened.' And immediately his ears were opened, his tongue was released, and he spoke plainly. Then Jesus ordered them to tell no one; but the more he ordered them, the more zealously they proclaimed it. They were astounded beyond measure, saying, 'He has done everything well; he even makes the deaf to hear and the mute to speak.'
CENTERING WORDS
MEDITATION Rev. Anna Kreisle
HYMN "She Came to Jesus"
PRAYERS OF THE PEOPLE
You may share your joys and concerns out loud now. The pastor will end each request with

One: O God,

All: Hear our prayer.
THE LORD'S PRAYER
Using these or whichever words are closest to your heart, yet saying together:

Our Creator in heaven, hallowed be your name, your kin-dom come, your will be done, on earth as in heaven. Give us today our daily bread. Forgive us our debts as we forgive our debtors. Save us from the time of trial and deliver us from evil. For the kin-dom, the power, and the glory are yours now and forever. Amen.
Near the sanctuary doors, there is a locked wooden offering box where you may place your tithe or loose change on the way out. Alternatively, you may text your gift to 512.842.6662 by putting a $ followed by the amount into the message. Or to be led to our online giving portal, click the orange button below. Thank you so much for your generous support.
CLICK HERE TO MAKE AN OFFERING TO UCC
All are invited to the table of love, baptized or not, member or not, whether your faith is strong or you are doubting, all are welcome at God's table.

WORDS OF INSTITUTION
TABLE PRAYER
SHARING THE BREAD AND CUP
INVITATION
THANKSGIVING
One: Thankful for all the gifts of God, let us say:

All: Thanks be to God, Amen.
SENDING SONG "O God, Our Creator, You Work Every Day"

BENEDICTION

COMISSIONING
One: Now our worship has ended.
All: Let our service begin.
Saving Grace - Adult Education
A new adult education opportunity is starting Monday nights this fall on September 13th at 7 PM on Zoom! Join us as we learn together about how to better manage our money and possessions as people of faith. You can purchase paper or digital the participant guide from church, from Amazon or from Cokesbury. Also, if you have friends or family who you think would benefit from this course, guests are welcome!
Zoom ID: 512 765 1500
Password: ucc
Youth Group Kick-Off
Youth Group Kick Off Party will be Sunday, September 12th from 530-730pm. Look for an evite this soon, with details about the party. Contact Meghan with any questions, youth@uccaustin.org"
Care Calendar Needs
Karin Bergthold could use the help of our church family as she goes through radiation for the next few weeks in the way of rides and meal prep. Go to http://www.CareCalendar.org/logon/299820
Calendar ID: 299820
Security Code: 8236
BYO Picnic on the Grounds
United Christian Church grounds @ 12:00pm - 2:00pm on September 12th
Join us outside as we gather again for the fall season at UCC. Bring your own lunch and drink, a chair, and a mask and we will eat on the grounds from 10-11 am. There will be snowcones!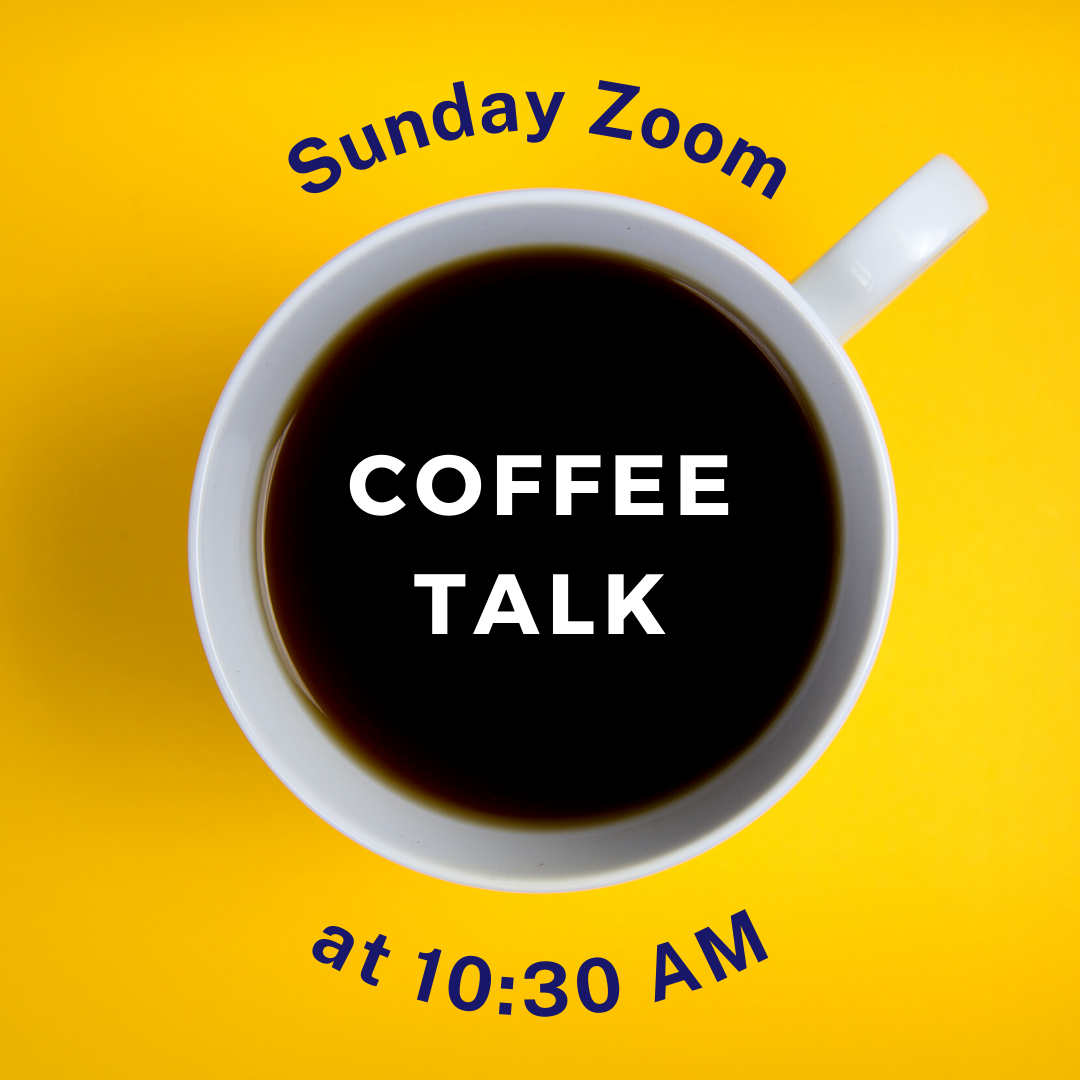 Coffee Talk
ZOOM COFFEE HOUR IS BACK!
Our Zoom coffee hour is now back due to popular demand! Join us between services at 10:30 AM Sundays at the link in the weekly newsletter or by using these credentials any Sunday. ID: 512 765 1500 Password: ucc
Period Party Collection
The Period Party may look a little different this year due to Covid, but we are still collecting feminine hygiene products for distribution at a later time.