June 6th
RINGING OF THE BELL
WELCOME
ANNOUNCEMENTS
CALL TO WORSHIP: A Litany to Welcome Pride Month
One: Jesus says: "my family is those who do the will of God."
All: And what is the will of God?
One: Jesus says: "Love the Lord your God with all your heart, soul, mind, and strength, and love your neighbour as yourself."
All: And who is my neighbour?
One: Jesus says: "the one who showed mercy — go and do likewise."
All: So how do we know who to exclude?
One: Jesus says: "a house divided against itself cannot stand."
All: We are called into the family of all God's people. We are called the Body of Christ.
One: It is the Holy Spirit who brings us together, and it is the Holy Spirit who gives us the gift of faith.
All: Who are we to deny the Spirit's work?
One: United by the power of the Spirit, through the grace of our Lord Jesus Christ,we commit to doing the will of God, and proclaiming the truth of the good news:
there is nothing that can separate us from God's love.
All: Love is love is love.
CALL TO RECONCILIATION
PRAYER OF CONFESSION
All: Holy God, Breath of Life, you are nearer to us than we can even sense. You offer yourself to us, and for us, if only we will pay attention and follow your way. We confess that we are often determined to go our own way, regardless of what you say to us. We hear your truth spoken by your prophets and we decide not to listen, allowing their words to float away on the wind so that we can have what we want. Forgive us, God, for wanting what we do not have, instead of realizing we already have what we want. Forgive us for following voices that are not your Spirit, and for following in footsteps that are not Christ's. Give us courage to look for your eternal way rather than the easy way. Renew us, inside and out, that we may live in your grace, for your glory. Amen.
SILENCE
ASSURANCE OF GRACE
SCRIPTURE ACCLAMATION

Halle-, Halle-, Hallelujah!
Halle-, Halle-, Hallelujah!

Halle-, Halle-, Hallelujah!

Hallelujah! Hallelujah!
SCRIPTURE READING: Corinthians 4:13-5:1
But just as we have the same spirit of faith that is in accordance with scripture--"I believed, and so I spoke" --we also believe, and so we speak, because we know that the one who raised the Lord Jesus will raise us also with Jesus, and will bring us with you into his presence. Yes, everything is for your sake, so that grace, as it extends to more and more people, may increase thanksgiving, to the glory of God.
So we do not lose heart. Even though our outer nature is wasting away, our inner nature is being renewed day by day. For this slight momentary affliction is preparing us for an eternal weight of glory beyond all measure, because we look not at what can be seen but at what cannot be seen; for what can be seen is temporary, but what cannot be seen is eternal. For we know that if the earthly tent we live in is destroyed, we have a building from God, a house not made with hands, eternal in the heavens.
MEDITATION ON SCRIPTURE
PRAYERS OF THE PEOPLE
You may share your joys and concerns out loud now. The pastor will end each request with

One: O God,

All: Hear our prayer.
THE LORD'S PRAYER
Using these or whichever words are closest to your heart, yet saying together:

Our Creator in heaven, hallowed be your name, your kin-dom come, your will be done, on earth as in heaven. Give us today our daily bread. Forgive us our sins as we forgive those who sin against us. Save us from the time of trial and deliver us from evil. For the kin-dom, the power, and the glory are yours now and forever. Amen.
All are invited to the table of love, baptized or not, member or not, whether your faith is strong or you are doubting, all are welcome at God's table.

WORDS OF INSTITUTION
TABLE PRAYER
SHARING THE BREAD AND CUP
THANKSGIVING
One: Thankful for all the gifts of God, let us say:

All: Thanks be to God, Amen.
INVITATION TO OFFERING

CLICK HERE TO MAKE AN OFFERING TO UCC
SENDING SONG
BENEDITION
COMISSIONING
One: Now our worship has ended.
All: Let our service begin.
Important Announcements
Register for VBS
VBS Registration Now Available! Join us for our online activities and/or our in-person open house evenings. Register Online NOW! Click below
Register Now
Food Drive-By for Bethany Faith Food Pantry
Bring your non-perishable food items on June 13th all day long and drop them in the bins in the front of the building. You may also bring your donations to the VBS Family Events on June 13th, 16th, and 19th from 5-8 pm. We will also be filling up our Little Free Pantry. Click below for a suggested list of items for both drives.
Food Drive Items
Town Hall Meetings and Congregational Meeting in June
Zoom @ June 13th 11:00am - June 27th 12:00pm
Join via Zoom following worship for two important Town Hall Meetings on June 13th and 20th which will lead up to our annual Congregational Meeting on June 27th. It's the best way to be informed about what is going on in the church.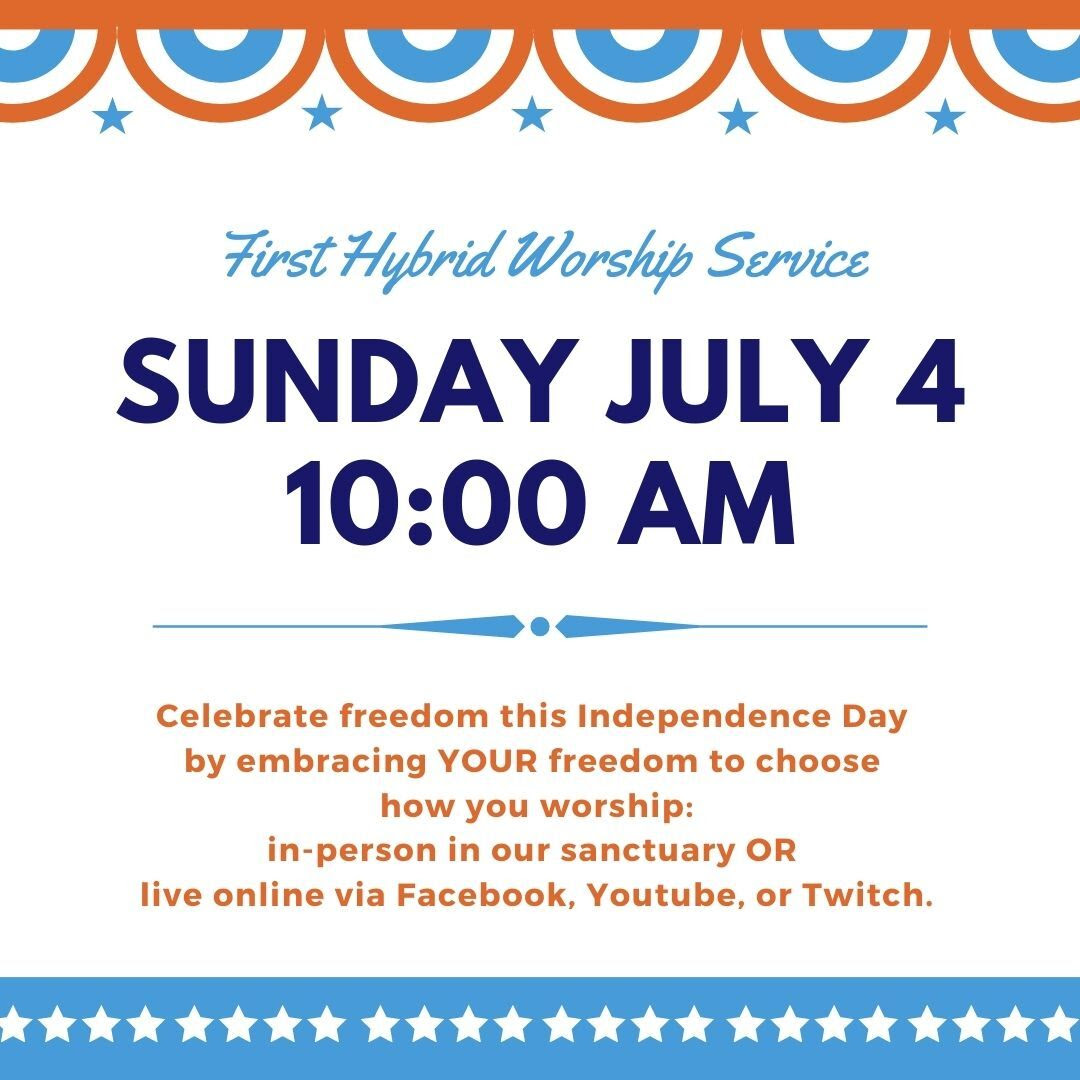 Hybrid Worship Coming July 4th at 10 AM
United Christian Church or Online @ 10:00am - 11:13am on July 4th
Many have been waiting for this day for 15 months. Those who are comfortable can worship in person in the building and those who have enjoyed online worship can still share worship in the comfort and safety of their own homes